How Digital Marketing can help during the covid 19 period?
Home » Blog » How Digital Marketing can help during the covid 19 period?
September 4, 2021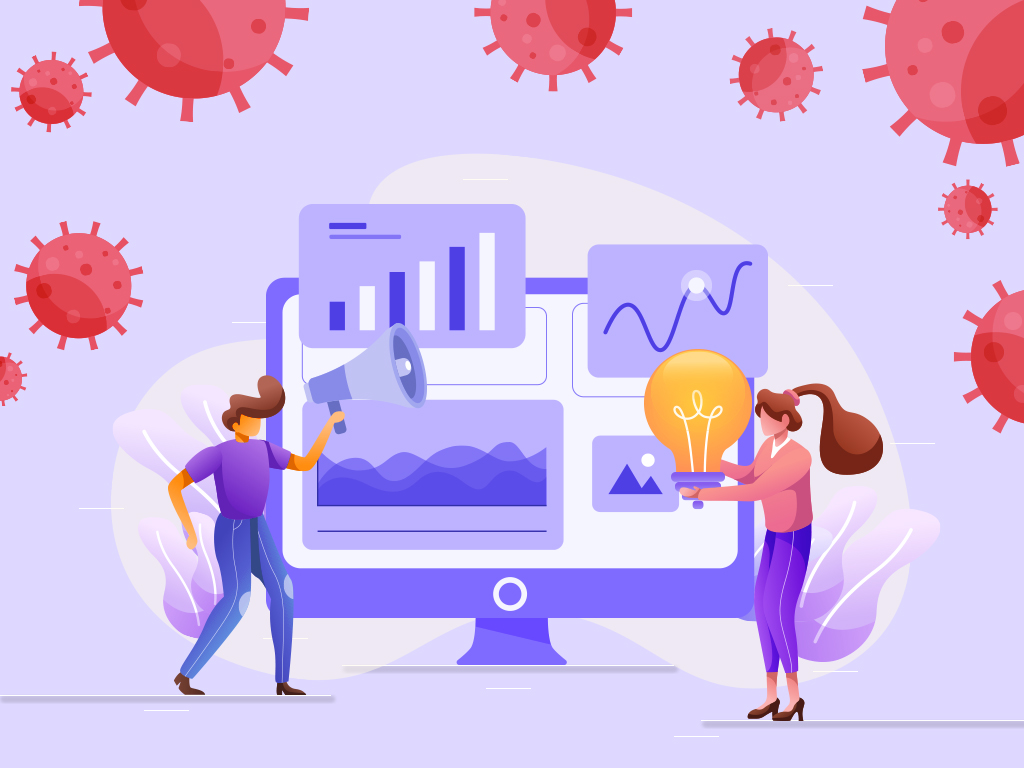 As mentioned in my last blog on covid that businesses have to steer to digital operations to comply with the customers need to 'stay at home' and maintain social distance due to the covid 19 pandemic. He/she will no longer step out frequently to know about an existing or new establishment. In fact 'search' statistics show surge in the word 'near me' in searches clearly showing that people are trying to find out about businesses nearby to them and they are refraining from stepping out. In such a case businesses will not be able to reach out easily as there will be few to view their 'out of home' advertising campaigns .Besides TV and radio commercials are an expensive bet too!
It becomes but obvious, that if your customer is looking for you online, you need to be there!
A customized digital marketing strategy with the help of a digital agency, can help you win the game .Though a lot can be done to market your products digitally, but some quick and sure ideas are right below.Digital marketing plans can be for two scenarios1.B2C
In this scenario, you need to reach out to the common consumer on the digital platforms where he / she exists.
Social media: Social media is the first on the list. With social media marketing strategy in place, you can maintain your brand image. Posting rich, interactive and useful content can bring about trust. Social media advertising helps you sell your products directly to a sharply targeted relevant audience as well.
Website: Your website is the first door that opens to your establishment. Your website popping up in search results gives a comfort to your customer. He/she is assured not only about your existence but also that you are genuine. The information on your website that he/she browses helps them make up their mind about you. And comfort and assurance is what people need during this covid 19 crisis period.
Search engine marketing: This allows you to throw text and image ads to your potential customer when he/she is searching for you. The best part is that you are there when they are looking for you! Also this can be done with a minimalistic budget to start with. Moreover you get robust reports and that you optimise your campaigns on the go with little effort.
Email and SMS marketing: Both email and sms marketing are very economical way to promote to your potential customers. A direct and crisp message into the inbox of the audience is what you can deliver whenever you want to communicate about offers or a sale at the earliest!2.B2B
In the B2B scenario, since you are talking to only business owners or the responsible staff of a business, the digital marketing platforms will vary. We are looking at longer sales cycles as well as long term relationship built on trust and business satisfaction.
Website: Yes, website becomes the most important digital asset in B2B scenario. Every information from products, to credentials, to validations, client list and other company information on your website can speak a lot. The website will be your live brochure for the client.
Email Marketing: This marketing tool becomes significant to constantly tap your audience with single or drip email campaigns. These campaigns can be tracked for their open rate and audience can be re-targeted with individual appropriate 're-campaigns' depending upon their level of interest.
Social Media: Social media platforms like Linkedin are the best to build new connections and start conversations. It also gives you a platform to share content and build your brand as an industry expert. On the other hand Youtube videos can be used to showcase products, company credentials and assets to strengthen your brand.
Blogs and case studies: Blogs and case studies by you on the subject matter relevant to your audience builds your credibility and raises your rating their eyes. This leads to strengthening of trust and loyalty
All said and done, the revival of each kind of industry will take its own course of time post covid. This will depend on the priorities and demands that the consumer/client sets for the particular industry. Nevertheless till the consumer/client and so the businesses get active in terms of transactions and conversions, institutions and corporations will run on basic protocols. Meanwhile keeping in touch with your audience is very important.
How can brands continue to be in touch with their audience and nurture them during the pandemic period?
First of all get'online' on the appropriate digital platforms such as a website, social media platforms, and mobile apps especially where your potential or possible audience is present.
Informing your audience about how you are currently operating or not operating, taking orders and what is your delivery mode.
Inform them about the shortage, supply, availability status of goods and products and what you are doing to reach them to customers during the pandemic.
Ensure your audience of the safety measures taken by your company during the covid period to keep the transactions/services infection free.
Create useful engaging and heart-warming content and share them across all the platform you exist.
Talk about your company employees who work day and night in this risky environment to run the show.
Announce some relief like interest free payments for goods that are paid for by instalments.
With uncertainty looming over the economic revival in the world, digital media has largely come to rescue in all walks of life and is here to stay for good.