Business/Work in covid 19 times
Home » Blog » Business/Work in covid 19 times
September 4, 2021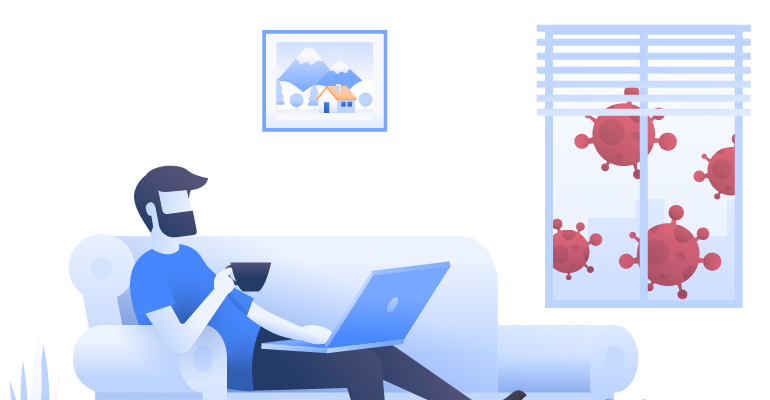 The Covid 19 crisis has literally got the world on its knees. From the mass infections, to the deaths, to lockdowns and the global economic crisis, the implications have been many and the effect of these is here to stay for a long time. Businesses have taken a cruel bashing with phenomenal amount of financial losses across the globe. Moreover the scare of being infected looms on all 24×7. Apart from these negative effects, there were a pleasant set of positive effects seen too. The air is cleaner and the sky is clearer!
The biggest change was seen in the lifestyle of humans though. The internet came to everyone's rescue to keep them afloat in times of lockdown and social distancing. There are a few online trends apart the 'work from home' strategy adapted by corporations is getting cemented in lives .There has been a multifold surge in online activities such as
Increased use of whats app for video calls
Increased online orders
Online education /classes with screen sharing apps
Increase in website search rather than map search
People are connecting and playing online games remotely
Doctors are consulting online
People have enrolled for online gym instructions and fitness classes
Institutes have been compassionate and opened a lot of free online courses
People are even praying online!
Grocer baskets sold through whats app
E books downloads increased.
In fact with this, the 'imposed' learning of online usage has picked up leading to the birth of new online consumers!
The spike in the above online activities only suggests that –
In times of 'social distancing ' and lockdowns, going digital is the only answer
How could you digitally continue operations during covid 19?
As social distancing becomes a norm, the customer is trying to procure and the businesses are trying to provide with minimum or no personal interaction. Obviously, for both goods and services industry, stoppage of business means loss of production, loss of revenue, loss of customers and loss of brand image, To avoid this digital transformation is a must to conduct 'safe' operations.
Digital Transformation can be in 2 scenarios
When a business has not gone online at all
When the business is partially online.
Digital Strategy could be slightly different for the products and services sector of businesses
For businesses or establishments (especially brick and mortar) selling goods, who have run their business traditionally till date, will now have to compete with their online competitors beginning with an online presence through a website. They would need to also rely on local listings and social media presence.

As online search and research statistics during the covid period show sharp spike for 'home delivery' options, online selling would be the obvious option For e.g. if you are small business you could sell online by attaching yourself to aggregators platforms that sell your kind of goods or if you are large, you could set up your own eCommerce platform . Your website / eCommerce platform should display details about the product with enough visuals and images to cover up for the missing 'touch-feel-buy' factor. Integrating all possible online payment options will be very important to cover all types of customers whether he owns e – wallets or credit card. Order tracking mechanism are present in the aggregator platforms or you could pick one from the software market based on a subscription fees. Delivery limitations and self-pick up options to be clearly mentioned on all digital platforms. Special mention about norms of the 'social distancing' and hygiene being followed to be made on the website and all digital assets.

On the other hand to deal with suppliers, acquiring an online accounting and inventory system would greatly help to manage storage of goods. Using videos and images for selections of new 'items' over the internet will keep the relation totally based on 'social distancing'. And making online payments to the suppliers will further strengthen the same.
For non-tangible Services oriented businesses, a totally different set of online utilities and tools would be of good use. Web conferencing solutions embedded with presentation tools and live conference environment not only bridge the gap of physical distance and logistics but also abide by the social distancing norm. Business emails, and screen share tools along with voice and video calls are great for conducting your business meetings remotely with clients.
For businesses that deliver services through personal interaction for e.g.: beauty and salon services are going to wait a lot till they are back to business .However they will need to build trust and assurance among their clients about their hygienic practices they embed in their services. Meanwhile they can use the online medium to promote themselves through social media marketing channels for sure but at the same time they can propagate the safety (sanitization) and social distancing measures they take to serve customers in the salon or through home salon services.
Apart from hard core businesses, the healthcare and education services will need to rely more and more on online interaction such as online consultation for doctors and clinics and online teaching for educators .With the digital presence through websites and social media these two can deliver their services through mobile apps as well .Videos can be used for education from imparting knowledge about healthcare or about education subjects
Various ready to use software solutions or customized digital business solutions can be adapted by any of the above set ups based on their need. For eg : An Employee Management system can be used by the HR department to manage employee data and salaries. A similar system could be used by institutes or doctors / clinics to maintain their patient records. Project Management systems can help to track a project or assignment progress. CRM or Customer relationship management systems are used to track a customer life cycle from a lead to a customer and could also be integrated with the ERP
to plug in the conversion details of that customer. Various online communications tools such as emails, chats , commenting , web conferencing , sms, image sharing modules could be attached within these solutions .
For both businesses new or partial to the digital adaptation, a small investment can give great returns as your business will open up to the entire world! In less than the amount that you'd spend on your overheads expenses, you could get completely digitized as well as well maintain social distance to do safe and covid free business. So whether a business is new or partially new to digital adaptation, could plan their future digital strategy by keeping social distancing and hygiene in mind .And it can all be achieved by hiring a professional digital agency for the same.

Remote working could be a thing of the future since travelling and movement will make them susceptible to covid. So beginning from a simple website will not only give the digital presence but implementing tools like CRM, SAP or mobile applications for various stakeholders like sales, management, customers, and suppliers will facilitate the actual working and will not hamper the business.