Home » Services » Healthcare Digital marketing services
Healthcare Digital Marketing Services.
"Healthy citizens are the greatest asset any country can have '' was once said by Winston Churchill and surely the role of the healthcare industry is large in pursuing this asset across the globe. Healthcare workers mainly doctors have been the first go to people for mankind from old times whenever it came to health challenges. A simple 'nametag' at the doctor's clinic would let the passing by people know about their existence. And from there on the promotion was through word of mouth. Then came the print, radio, directories and TV for promotion of healthcare goods and services. The purpose of advertising was well served for doctors and pharmas by these channels through the 20th century. With the internet revolution in the mid- 90s healthcare marketing had taken a radical turn and their industry looked at healthcare digital marketing services to talk about products and services offered by them. Beginning from local electronic directory listing with a mere contact number ,digital marketing in the healthcare industry has moved forward to creating elaborate websites , upload educational health care videos , case studies , surgery videos , investigation equipment and method literature online. There is no end to the possibilities of going digital.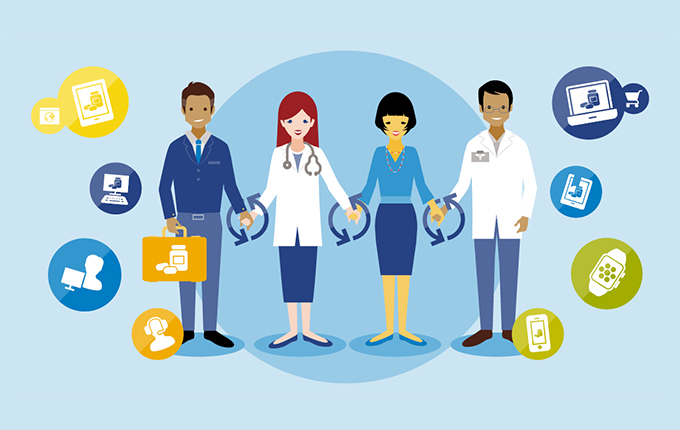 Digital Direxions has had the opportunity to serve many healthcare providers from doctors ,to therapy centers, polyclinics, nursing homes and labs and entrepreneurs who wanted to create health apps etc. .We have had the chance to know the limitations and ethical guidelines to promote the medical fraternity online and otherwise. We understand the patient's point of view and what he seeks and hence what online strategy the health providers need to adapt.
What do our Healthcare Digital Marketing Services offer?
For a patient, the reputation of a healthcare provider is the deal breaker .Hence it becomes very important for the providers to have a clean brand image. While direct promotion is banned for healthcare providers, the possibilities of brand building are many in digital marketing. We have a bouquet to offer in healthcare digital marketing services.

Websites
Websites make patients take about the first step towards building trust in a health care provider. The contact information, Specialty and services are the first set of information that patients will search for and he can get it from the website.

A content rich website is a good proposition but if it cannot be 'reached' by your target patients, it can be futile. All the content that a website has, needs to be optimized for keywords so that when your patient is looking out for your content, your website should pop up on the search engine. Hence a 'do it yourself ' website cannot do this job for you. You need to get into proper customized web development with a healthcare digital agency.

Rich content
While having your contact information on the website is just enough for the patient to walk in your healthcare facility, rich content within the website will help you build your brand. Blogs, case studies, images of your facility, educational videos etc. give an edge to brand building. This gives you an opportunity to do what we call: content marketing.

Search Engine Marketing is paid marketing that gives you a chance to rank on the first page of google search ,when someone searches for your kind of services .For e.g. a dental clinic can promote dental implants services through paid marketing and when someone searches for 'dental implant services near me' , your ads can pop up.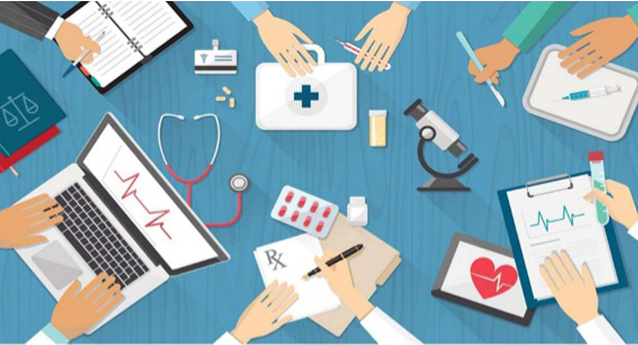 Health Check camps and events can be easily promoted within local area through email and SMS marketing .This becomes a 'handy' method to reach the potential patients who may have taken part in the camp previously.

Mobile apps are a great way to brand any entity .Creating health related useful apps can be created to keep the patients engaged .These can be used by patients to take appointments, message doctors in emergency , store previous medical records etc. ..Pharmas can create apps to cater to doctors updating them with the latest technology and drugs available for treatments while updating them on conferences. Drug glossaries could also be made handy on the apps for them.

Social media marketing services
These platforms can be used to share general useful health information and build trust .Whether it is doctors , clinics , pharmas or hospitals all of them can use the social platform to promote themselves to the end user directly. Additionally with social listening reputation management could be taken care of as well
Apart from the above offerings, a lot can be done for healthcare digital marketing such as marketing automation, webinars, local SEO, Live streaming of public health events, Augmented and Virtual reality based apps etc
So whether it is pharma digital marketing or digital ad social media marketing strategy for hospitals, clinics and doctors - we can cover it all!